Candy Holder Christmas Decoration
You will need:
Double sided sticky tape
Scissors
One/two sheets of 8" square paper.
Long length of wire
Beads
Sweeties!

Make it kid friendly & use ribbon instead of wire & beads!



1.
Either use a single sheet of double sided pattern/coloured paper of your choice, or choose 2 complimentary patterned/coloured papers and stick them together using double sided tape around the very edges to use as a single sheet.
Picture #1
2.
Fold your paper in half and then half again, creasing as you go along and snip across the 3 folded corners: see
picture #1
. Unfold.



Picture #2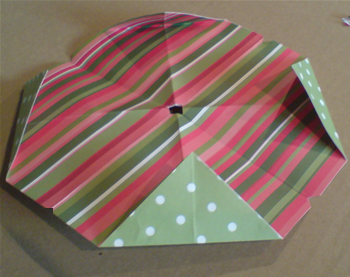 3.
Then fold diagonally across from corner to corner, crease and unfold again.
4.
Fold back the corners about 1 inch in, making sure each point lines up with the diagonal crease: see
picture #2
Picture #3
5.
Fold in half again, with the flaps on the outside & place some double tape to one side of the top little snip that you made in step 2.
Turn over and repeat on the other side. Unfold and fold in the other direction and do the same with the tape either side of the "v" cuts .
6.
Get your length of wire and wrap it around from top to bottom along the crease between the two snips: See
picture #4
. Remove backing from the tape and stick together to hold in place.
Picture #4
7.
Pull in the other sides with the "V"shape snips in and carry on wrapping the wire down the crease to create 4 pockets. Twist the wire to secure.
8.
Thread your chosen beads on to the remaining wire leaving a couple of inches free at the end. Form into a loop and wrap the end piece of wire neatly but tightly in between 2 of the beads.
Voila! All done, now fill the pockets with your favourite sweeties and hang on your tree!
You can try this using different size papers too, just adjust the fold in
step 4
accordingly.
Ribbon can also be used instead of the wire and beads ... the kids would LOVE to join in and make these!
Have fun and happy crafting!